Online Pilgrimage to Varanasi on Guru Purnima with
Tyagis Keshava and Daya
5 July 2020, 4:00 pm – 7:00 pm
One day of the year, on Guru Purnima, is Lahiri Mahasaya's home in Varanasi open for devotees to have darshan. To be in his home, for even this brief darshan, is a unique blessing.
This year, since we can't go in person, we invite you to this live online pilgrimage/retreat!
We will 'visit' each of our favourite destinations in turn, through quality images from our past pilgrimages. We will re-create the chanting and the stories, and we'll guide you into meditation and introspection in each place. In this 3 hour retreat, you'll invite into your home the presence and blessings of Lahiri Mahasaya, all of our gurus, and the great saints of Varanasi of all time.
Varanasi, the oldest surviving city in the world, radiates timeless wisdom. Great saints like Adi Shankaracharya, Gautama Buddha, and Mahavatar Babaji lived here. It was in Varanasi that Paramhansa Yoganandaji first met Swami Sri Yukteswar.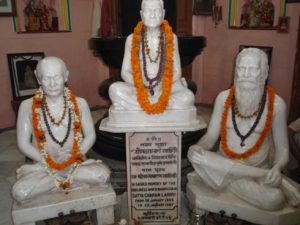 Here lived the now famous, but ever humble Yogavatar, Lahiri Mahasaya, who, with the blessing of Mahavatar Babaji, resurrected Kriya Yoga and began a quiet revolution that has spread around the world. The home where Lahiri Mahasaya lived, meditated, and taught his disciples, is preserved as it was when he was there, more than 100 years ago. It is available for darshan only this one day of the year.
In the same neighbourhood is Satyalok, an ashram which has been passed down in Lahiri's family. It contains a portion of Lahiri's ashes.
We will take the darshan of Kashi Vishwanath Temple, Manikarnika burning ghat, and Dashashwamedh Ghat, where at sunset we will witness the Ganga arati. We will sail our boat up and down the river, chanting and meditating on timeless and eternal Varanasi.
It will be a joy to be on pilgrimage with you!