PILGRIMAGE TO BADRINATH

Sunday to Friday, 8-13 October 2023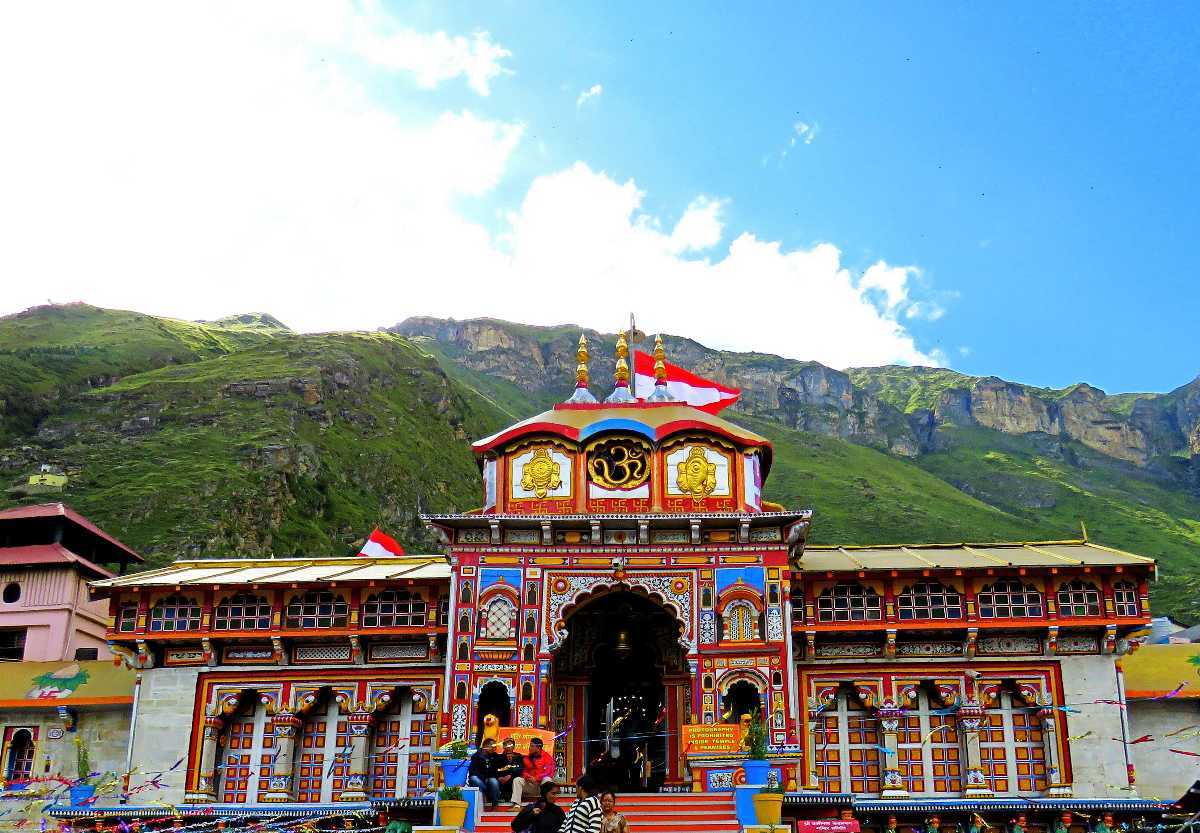 A powerful place of pilgrimage since Vedic times, the Badrinath area is also said to be the present home of Mahavatar Babaji.
"The northern Himalayan crags near Badrinarayan are still blessed by the living presence of Babaji, the guru of Lahiri Mahasaya. The secluded master has retained his physical form for centuries, perhaps for millenniums. Babaji's spiritual state is beyond human comprehension."
–Paramhansa Yogananda, Autobiography of a Yogi
Timeless peace and great spiritual power can be felt even in Badrinath's rarefied air, pristine natural beauty, and soaring mountains.
In Badrinath temple, we'll take darshan of the image of Lord Badrinarayan (in lotus posture looking strikingly like Babaji). You may also choose to attend the early morning puja when that image is bathed. And you can bathe yourself in the temple hot springs. Currently, there is a multi-year construction project going on around the temple, and this may affect our experience there.
Beyond the village of Mana we'll meditate in the cave of Ved Vyasa, where he's said to have written the Mahabharata. A cave attributed to Ganesha is close by. We'll cross the Saraswati River, in a rare appearance as it emerges from the mountain before going underground. We'll cross "Bhima's Bridge", and walk the "Stairway to Heaven" which the Pandhavas took at the end of their lives. Those who wish to may climb five kilometers to Vasundhara Falls.
We'll also walk in the Neelkanth Valley above Badrinath temple. An easy riverside walk boasts natural beauty, pilgrimage sites, and sadhus.
Our entire pilgrimage will be six days and five nights. Of that, two days and three nights will be in Badrinath itself. We'll travel by bus from Delhi, driving two days to reach Badrinath, and two days to return.
Driving up, we'll follow along the Ganga from Haridwar, passing each of the five prayags where tributaries join, at last forming the great Ganga. These include Devprayag, the point where the Alaknanda, coming down from Badrinath, and the Bhagirathi, coming down from Gangotri, both join, and the river is first known as the Ganga.
On our return downhill, we plan to stop in Joshimath, and meditate in the powerful cave where Adi Shankaracharya found enlightenment. Joshimath is where he founded one of the four maths he established in the four cardinal points of India. For the six months of winter when Badrinath itself is covered in snow and the road closes, Joshimath is also the "winter home" of the murti of Lord Badrinarayan.

Tour Leaders
This trip will be led by Hari and Chika of Ananda Delhi. They will be assisted by a guide from Discover Tours, the Indian tour operator that has guided Ananda pilgrimages for 35 years.


Proposed Schedule
Sunday, October 8
5 am: Start by bus from Panchsheel Park, Delhi. Slowly climbing above beautiful river canyons, we reach Rudraprayag about 6 pm. About 13 hours travel time, including stops for breakfast and lunch. Dinner and spend the night at Rudraprayag's best hotel.
Monday, October 9
After meditation and breakfast, we continue driving, as lofty mountain vistas unfold. After about 8 hours we reach Badrinath, at 3100 metres, remote and beautiful. If there is time in the late afternoon, we'll visit the colorful temple of Badrinath, which enshrines the sacred statue discovered in the river by Adi Shankaracharya in the 9th century. We'll have breakfasts and dinners together every day at our hotel.
Tuesday, October 10
After meditation and breakfast, we'll bus to the village of Mana, just 24 kilometres from the Tibet border. It is said that the Pandavas passed through this village on their way to heaven. At Mana we'll meditate in the cave where Ved Vyasa is said to have written the Mahabharata. The "Stairway to Heaven" marks the path the Pandava brothers took; Bhima's bridge is the boulder he placed so his brothers could cross the Saraswati where it flows from the mountain. We can take afternoon darshan at the main Badrinath temple.
Wednesday, October 11
While still dark, those who wish can walk to the temple for the moving morning Abhishek Puja, led by Badrinath's head priest. Later we can walk in the Neelkanth Valley, above the temple, where sadhus and yogis live very simply. Bramhapala Rock is a place on the river where departed souls are blessed and prayed for, and we can offer our own love and blessings at this spot. Free time can include bathing in the hot springs below the temple.
Thursday, October 12
After breakfast we'll start our drive down the hill. At Joshimath we plan to meditate in Adi Shankaracharya's cave, where he is said to have achieved enlightenment. Here also is one of the four monasteries he established at the four cardinal points of India.
We expect to arrive late afternoon at Rudraprayag, have dinner, and stay the night.
Friday, October 13
After meditation and breakfast, we'll drive from Rudraprayag for 12-13 hours, all the way back to Delhi, with stops for lunch and dinner.

Physical fitness for this trip
A medical check-up for high altitudes is advisable before joining this pilgrimage. Consult your doctor if you have health concerns such as blood pressure, diabetes, asthma, or heart or lung conditions. At such an elevation it's common to feel shortness of breath and your body may move more slowly than usual.
The activities are optional, but we will offer slow group walks of one to three hours, and you may take longer and steeper walks if you wish. There are a good number of stairs at our destinations, so you must be able to get around easily. If you look forward to walking, you can prepare yourself for pilgrimage by increasing your level of regular exercise, and by practicing pranayama.
If you are susceptible to car-sickness, the roads are mostly paved, but are long, have many curves, and are often not smooth. Delays can occur due to construction or rock slides. It is at least 20 hours driving each way between Delhi and Badrinath. This is not a trip for those in fragile health.



Weather, Accommodations, and Transportation
We've chosen these dates as being comfortably after monsoon, when weather is often sunny, usually cool but not freezing, and without sustained rain. Having said that, in the mountains, any weather is possible, sometimes all in the same day!
Transportation will be by 27-passenger bus. We will be staying in 2 and 3-star hotels. We've inspected the hotels and have used them before. However, no seasonal hotels in the high mountains have the same standards as a city hotel.
During a pilgrimage in the mountains, one must expect the unexpected. Our schedule may change due to persistent rain or cold, or a closed road. Ananda Pilgrimages cannot be responsible for weather or road related delays beyond our control.

Programme Fees
Double occupancy (one bed) Rs. 48,000 per person.
Twin occupancy (two separate beds in room) Rs. 50,000 per person.
Single occupancy (private room) Rs. 68,000 per person.
If you wish twin occupancy accommodation and you do not know another pilgrim, you will be assigned a roommate if possible.
The programme fee includes all group transportation Delhi-Badrinath-Delhi, lodging, breakfast and dinner most days, and hotel tips.
Not included are lunches, all meals during bus travel, snacks, beverages; donations at ashrams; tip for our guide; personal hotel expenses; medical insurance or medical care should you need it. We suggest considering medical or travel insurance for such a mountain trip.
The pilgrimage begins at Ananda Delhi, Panchsheel Park, at 5 am Sunday 8 October. It ends at Panchsheel Park after dinner on Friday, 13 October.

Preparation for Pilgrimage
Details of weather? What to pack? What to wear? We'll help you through all these questions and more by e-mail, with letters on preparation and answers to any individual questions.

Payments
A completed application form and payment are both needed to confirm your space. We ask for full payment once your application is accepted.