Pilgrimage to Ladakh


25 – 28 August 2022
Join us in this rare spiritual adventure to "Little Tibet," where we'll experience one of the most spectacular landscapes on earth; meditate in ancient, powerful Buddhist temples and monasteries; walk through a Ladakhi village, and share joyful satsang with other like-minded souls. This trip will be led by Keshava, Daya, and Chika, teachers from Ananda Delhi.
An extension of the Tibetan plateau, Ladakh is a separate world from the rest of India, yet just over an hour flight from Delhi. This is one of the most beautiful flights in the world, flying directly over the Himalayas. The spiritual heritage of Buddhist mystical teachings travelled from India to Ladakh, then to Tibet. They've been preserved and practised uninterruptedly for the last 1,200 years. Ladakh's continuous and still vibrant tradition of meditation, introspection and Dharma dates from this time.
Our home base for three days in one of Central Asia's most scenic towns, tranquil, historic Leh, the capital of Ladakh, and long an important stopover on the old Silk Road connecting China, India, and Europe. Our hotel in Leh is within walking distance of the main bazaar—a mixture of Tibetan and Kashmiri curio shops, trekking provision stores, street vendors, and restaurants.
On this pilgrimage, with our Ladakhi guide, we'll wend our way up and down the Indus valley, bordered by two of the world's highest mountain ranges—the Himalayas and the Karakorams. We'll meditate in temples and prayer halls—spiritual havens where Buddhist monks have meditated prayed and chanted for centuries; and discover exquisitely detailed wall murals, thangkas (religious paintings), and sculptures, amazingly preserved by Ladakh's rarefied air and dry climate. These old monasteries contain rich collections of paintings and artefacts and the tangible power left by centuries of spiritual masters meditating there. And we'll dive deep into the silence of Divine Mother's majestic nature.
In Hemis monastery—one of Ladakh's richest and most renowned—we'll meditate where some say Jesus studied during his "lost years." We'll drive along the Indus River downstream to the charming ancient village of Alchi, containing deeply peaceful 11th-century temples with wall paintings done in Kashmiri style.
Ananda Pilgrimages are not so much about sightseeing and doing as about being—being in a place of high spiritual vibration and learning to relax and open your heart to receive the blessings. Meditating as a group in these holy spots reinforces their power. The flavour of the pilgrimage is both inward and expansive. We'll meditate together in the mornings and at each monastery, while simultaneously receiving the expansive vibrations of Ladakh's astonishing natural beauty.
Schedule

Thursday, 25 August
Morning flights to Leh, Check-in, rest in the room, light lunch available
2:30 pm
Opening Satsang
4:00 pm
Optional visit to Shanti Stupa for the view over Leh and Indus valley
7:00 pm
Dinner at hotel
Friday, 26 August
6:00 am
Depart for morning prayers, chanting at Tikse monastery
Forenoon
Box breakfast & Tikse Visit
Drive to Hemis monastery, visit
Afternoon
Visit Stakna monastery after Lunch
Free time to rest or visit the bazaar
7:00 pm
Dinner at hotel
Saturday, 27 August
6:45 am
Energisation Exercises
7:00 am
Meditation
8:00 am
Breakfast
9:00 am
Drive to Alchi, visit ancient temples
 
Lunch at Alchi
 
Visit Likir Monastery, Pathar Sahib Gurudwara
6:00 pm
Closing satsang
7:00 pm
Dinner at hotel
Sunday, 28 August

Free morning. Return to Delhi as per your convenience.
Accommodations, Meals, and Transportation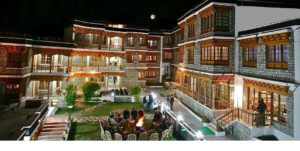 We'll stay at the 'A-rated Spic-n-Span Hotel in Leh (similar to 3-star), with heated rooms. Breakfast, dinner, and two lunches are included, at the hotel or at simple restaurants. Transportation in Ladakh will be by Tempo Traveller.
About the Altitude
Leh is at an elevation of 3500 metres. Arriving by flight requires a 12 to 24 hour acclimatisation period to adjust to the elevation and thin air. We'll spend our first day resting, drinking extra water, and having light, optional activities within the town of Leh. By taking this rest period, most people have little discomfort. You should consult your doctor if you have a chronic problem that could be affected by elevation. There is no need to walk long distances.
However, visiting monasteries involves climbing many stairs. Those with asthma or heart conditions should consult a doctor and may need to limit their activity. This is not a suitable trip for those of fragile health.
Reaching Leh
You would fly Delhi-Leh-Delhi, a flight of just over an hour each way. Flights currently start about ₹ 9000/- round trip. Price increases close to departure. You'd book your own flight, arriving on the morning of 25 August, the departing morning of 28 August.
We recommend arriving by 10:30 am, so that you can spend the whole day resting and acclimatising. We can let you know the airlines others are using. You may also choose to remain longer in Ladakh on your own.
Flights are available from other Indian cities. Almost all of them stopover in Delhi, and you may choose to spend the night in Delhi before taking an early morning flight to Leh.

Rooms
All rooms are clean and comfortable, with an attached bath.
Rooms are of two types:
'Deluxe' rooms have simple furnishings with traditional Ladakhi touches.
"Super Deluxe" rooms, in a newer wing, are larger, with modern furnishings.
Programme Fees
Deluxe Room
Double occupancy: Rs. 20,000 per person, plus airfare.
Single occupancy: Rs.  23,400 plus airfare.
Super Deluxe Room
Double occupancy: Rs. 22,000 per person, plus airfare.
Single occupancy: Rs.  26,800 plus airfare.
If you wish double occupancy accommodation and you don't know another pilgrim, you'll be assigned a roommate if possible.
The programme fee includes:
Group ground transportation including Leh airport transfers; lodging; three meals a day; mineral water; entry fees; all necessary tips to hotel & bus.
Not included in the fee:
Airfare, snacks, beverages other than water; medical insurance, or medical care should you need it; donations at monasteries; optional tip to our guide; personal hotel expenses such as room service.
The pilgrimage begins at Leh airport on the morning of 25 Aug and ends after breakfast on 28 Aug.
Payments
A completed application form and payment are both needed to confirm your space.
We ask for full payment at the time of application