Pilgrimage to Tamil Nadu and Pondicherry
24–28 January, 2018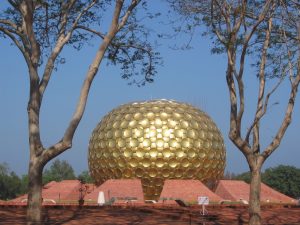 Meditate in the ashram and caves of the great saint, Ramana Maharshi
Absorb the vibrations of Sri Aurobindo's ashram and Samadhi in Pondicherry
Visit the intentional community of Auroville
Receive darshan of the ancient Kapaleeshwarar Temple in Chennai
Feel tangible peace in the cave of St. Thomas the Apostle
Tiruvannamalai:
Ramana Maharshi (1879-1950) spent most of his life here, at the foot of Arunachala Hill, in the ashram which grew up around him. His spiritual power continues to be a tangible presence in the caves where he meditated, in his room, and where his body is enshrined. Paramhansa Yogananda visited him here in November, 1935. Of this visit, he said, "If I had spent another half hour in the company of Yogi Ramiah, Ramana Maharshi's disciple, I could never have brought myself to leave India again!"Sri Ramana Ashram is a flourishing haven of peace, with a powerful vibration. There is great respect for silence and the ashram offers ideal opportunities for meditation. (Watch short documentary on Ramana Maharshi click here)
We'll also visit another sanctuary of peace in Tiruvannamalai, the magnificent 11th century temple of Arunachaleswara, dedicated to Lord Shiva. Ramana Maharshi also meditated here. The temple, the second largest temple complex in India, has Arunachala Hill as a backdrop. This hill is said to be the embodiment of Lord Shiva.
Dialogue with Sri Ramana Maharshi and Paramhansa Yogananda and his disciple.

Swami Yogananda with four others arrived at 8.45 a.m . . . The group had lunch in the Asramam.

Mr. C. R. Wright, his secretary, asked: How shall I realise God?
M.: God is an unknown entity. Moreover He is external. Whereas, the Self is always with you and it is you. Why do you leave out what is intimate and go in for what is external?
D.: What is this Self again? (Continue Reading)
Pondicherry:
Founded by the visionary Sri Aurobindo (1872-1950), the Aurobindo Ashram is a dynamic urban spiritual community with about 2,000 members and 400 buildings spread throughout the charming seaside town and former French colony of Pondicherry. The focal point of the ashram (and a great place to meditate) is the samadhi shrine of Sri Aurobindo—and an aura of peace and inspired creativity fills the town. Pondicherry is also great for walking on the seawall, exploring, and shopping.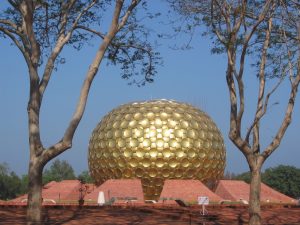 Auroville:
A half-hour from Pondicherry is Auroville, the international township inspired by Sri Aurobindo. This is a fascinating ongoing experiment in community living. Its 2,700 residents are dedicated to high ideals and to living as 'world-citizens'. We'll glimpse some of their successes and challenges of the last 50 years, and view the exterior of the 'Matrimandir' meditation temple.
One of Chennai's most beloved temples, the Dravidian Kapaleeshwarar Temple in Mylapore, built around the 7th century, is dedicated to Shiva as Kapaleeshwara, king of the ascetics, and Parvati as Karpagambal, goddess of the wish-yielding tree.
At Little Mount Shrine in Chennai, we'll meditate in the cave where Saint Thomas, the disciple of Christ, is believed to have lived, around 68 AD. The grotto can be entered from inside the 16th-century Little Mount Church. The shrine contains the cross before which St Thomas is said to have prayed, imprints of his hand and foot, and the spring that originated when St Thomas struck a rock with his staff.
Schedule
Wednesday, 24 January: Chennai
Arrive on your own, check into The Residency Hotel
1:00 pm: Lunch and opening gathering at hotel
Visit Little Mount cave of St. Thomas, and Kapaleeshwarar temple
Satsang, meditation, and dinner at Ananda Chennai Center
Thursday, 25 January: Tiruvannamalai
Energisation, group meditation, and breakfast at hotel
9:00 am: Depart for Tiruvannamalai. We will spend 2 nights.
2:00 pm: Arrive Tiruvannamalai, Lunch and check into Ramana Towers hotel
Free time
5:00 pm: Visit Sri Ramana Ashram
Meditate at Ramana Maharshi's Samadhi and meditation hall
7:30 pm:  Dinner
Friday, 26 January: Tiruvannamalai
Meditation
Breakfast at Akash Inn
Spend morning visiting two caves on Arunachala Hill where Ramana Maharshi lived
Lunch
3:00 pm: Visit Arunachaleshwara temple
6:00 pm: Meditation at Ramana meditation hall
7:30 pm: Dinner at Sparsa Resort
Saturday, 27 January: Pondicherry
Meditate at Ramana Maharshi's Samadhi and meditation hall
Breakfast
9:00 am:  Drive to Pondicherry
12:30 pm: Arrive Pondicherry, lunch, check into Shenbaga Hotel
3:00 pm: Visit Aurobindo Ashram
Meditate at Samadhis of Sri Aurobindo and The Mother
Walk along seawall and in the charming town of Pondicherry
Dinner at hotel
Sunday, 28 January: Auroville
Breakfast
8:15 am: check out, drive to Auroville
Visit Auroville visitor centre, view exterior of Matrimandir
11:00 am: Depart for Chennai airport, box lunch in bus
3:00 pm: Arrive Chennai airport
Return flight to your home.
Accommodations, Meals, and Transportation
Transportation will be by comfortable air-conditioned bus. We will stay at The Residency Hotel in Chennai, Ramana Towers in Tiruvannamalai, and Shenbaga Hotel in Pondicherry. All meals from 24 Jan lunch to 28 Jan lunch are included.
Programme Fees
Double occupancy: Rs. 29,000 per person, plus transport to/from Chennai
Single occupancy (private room): Rs. 34,500, plus transport to/from Chennai
If you wish double occupancy accommodation and you don't know another pilgrim, you'll be assigned a roommate if possible.
The programme fee includes all group transportation, lodging, 3 meals a day, and hotel tips.
Not included in the fee are transportation to and from Chennai, snacks and beverages, donations at ashrams, optional tips, personal hotel expenses.
Pilgrimage starts 24 January before lunch at The Residency Hotel, Chennai, and ends 28 January after lunch, at Chennai Airport.
You would book your own flight to/from Chennai, and meet the group at The Residency Hotel, a 40-minute drive from airport. We suggest flights which arrive in Chennai before 11 am on 24th. And which depart Chennai after 5 pm on 28th.
Payments
Completed application form and payment both needed to confirm your space. We ask for full payment at time of application.

To Apply:
Complete Application Form