In the Footsteps of Autobiography of a Yogi
15-18 February 2018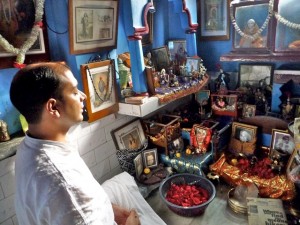 The heart of Autobiography of a Yogi is the city of Kolkata. Immeasurable blessings emanate from the places where Paramhansa Yogananda and Sri Yukteswar lived and meditated. That power is as alive today as always. Ananda has led pilgrimages to Kolkata since 1986, and we share a deep friendship with Yogananda's family and other custodians of these shrines.
Our pilgrimage will be centred on two houses. One is Yogananda's boyhood home at 4, Garpar Road, where he spent his early years of spiritual seeking. The family of Yogananda's brother, Sananda, continues to inhabit the home, which they will open to us as a shrine.  In Yogananda's attic meditation room he "found God" and had visions of Divine Mother and Krishna. We'll be able to meditate on this very spot. Yogananda's father and Sri Yukteswar were brother disciples. Sri Yukteswar regularly came to this house to meditate with the family. Before Yogananda's departure for the United States, Babaji came to bless him at the doorway to his bedroom, which is now reserved for silent meditation.
During Yogananda's 1935-36 sojourn in Kolkata, he stayed at the home of his close friend, Tulsi Bose. Tulsi's daughter lives in this house, and conserves the beds used by Yogananda and Sri Yukteswar, and relics of other saints who have blessed this house.
We'll meditate at the site of Sri Yukteswar's Serampore ashram, and visit the banyan tree at Rai Ghat, where Babaji and his disciples appeared to bless Sri Yukteswar when he finished writing The Holy Science. In Serampore we'll meet other members of Yogananda's family.
We'll also visit the Kali Temple at Dakshineswar, sanctified by the presence of Sri Ramakrishna Paramahansa for much of his life, and by Yogananda, as recounted in Autobiography of a Yogi. We'll also meditate at the house in Cossipore where Sri Ramakrishna spent his last months and had his mahasamadhi. And we'll visit the grounds of Belur Math, headquarters of Ramakrishna Mission.
This pilgrimage will be led by Nayaswamis Dharmarajan and Dharmini, and by Keshava.
Proposed Schedule
Thursday 15 February
Arrive Kolkata, check into Hotel Indismart
1:30 pm Lunch at hotel
3:15 pm Meet to board bus
4:00 pm Afternoon at Yoganandaji's home: meet his family, meditation, and prasad
7:30 pm Depart for hotel
Friday 16 February
Breakfast
8:00 am Meet to board bus
9:00-10:00 am Meditate at Cossipore
10:30-12:30 Kali Temple at Dakshineswar
Lunch
2:30 pm Visit Belur Math
4 pm Depart for hotel
Free time
7:30 pm Dinner at hotel
Saturday 17 February
Breakfast
8:15 am            Bus leaves for Serampore
10:00 am          Meditate at Sri Yukteswar's hermitage
11:30 Visit Rai Ghat and Babaji's banyan tree
Lunch and visit with Durlov Ghosh and family
3:00 pm            Return to hotel by bus
Free time
7:30 pm            Dinner at hotel
Sunday 18 February
7:00 am Energization, chanting, and meditation at hotel Breakfast
Check out
10:00 am  Meet to leave for Tulsi Bose's: meditation and lunch
2:00 pm Depart Tulsi Bose's for airport
Accommodations, Meals, and Transportation
Our hotel in Kolkata for 3 nights is the 3-star Indismart Hotel.  All meals are included. Transportation within Kolkata will be by comfortable a/c bus.


Arrival & Departure

15 Feb
:
You'd book your own flight to/from Kolkata, and make your own way to our hotel.
You should arrive in Kolkata before 
noon
, in order to reach hotel and depart on time for Yoganandaji's home.
18 Feb
:
Bus transport will be provided, arriving airport by 
3:00 pm.
You can choose a flight departing after 
5:00 pm.
For those coming from Chennai…
We suggest these flights:
15 Feb
: Indigo 6E-797 depart Chennai 
7:55 am
, arrive Kolkata 
10:20 am
Only the above flight will have bus transport from airport directly to hotel.
You should arrive in Kolkata before 

noon

, in order to reach hotel and depart on time for Yoganandaji's home.

18 Feb
: Indigo 6E-534 depart Kolkata 
18:20
, arrive Chennai 
20:45
Bus transport will be provided to airport in time for the above flight. 
You can also choose:

Indigo 6E-291 depart Kolkata 
19:20
, arrive Chennai 
21:55
Programme Fees
Double Occupancy: Rs. 29,000 per person, plus flights.
Single Occupancy: Rs. 35,400 per person, plus flights.
If you wish double occupancy accommodation and you don't know another pilgrim, you'll be assigned a roommate if possible.
Programme fee includes airport transfer for the above flights, all group transportation in Kolkata, lodging and 3 meals a day, and hotel tips.
Not included are airport transfers for flights other than those above, beverages, donations at ashrams and Yogananda's shrines, medical care should you need it, personal trips in taxi or auto, personal hotel expenses such as laundry or room service. You'll be invited to make a donation of any amount to help the upkeep of Yogananda's shrines.
Payments
Completed application form and payment both needed to confirm your space. We ask for full payment at time of application.
To Apply:
Complete Application Form